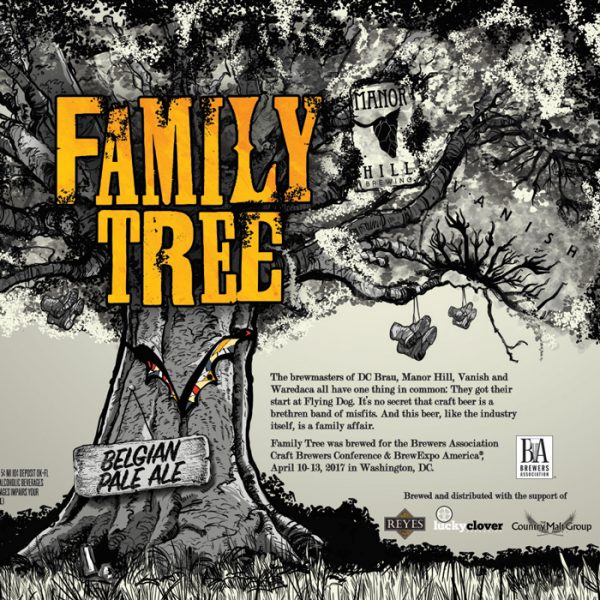 Each year the Brewers Association works closely with the local state guild to create the recipe for the Symposium Ale at the Craft Brewers Conference & BrewExpo America® (CBC). The 2017 host city, Washington, D.C., presents the exciting opportunity to collaborate with the D.C., Virginia and Maryland guilds and involve area craft breweries.
Introducing Family Tree, a Belgian pale ale—the 2017 CBC symposium beer. The recipe highlights the comradery among five D.C.-area brewers who got their start at Flying Dog:
From the label:
The brewmasters of Manor Hill Brewing, Vanish Farmwoods Brewery, Waredaca Brewing Company and DC Brau Brewing Company all have one thing in common. They got their start at Flying Dog. It's no secret that craft beer is a brethren band of misfits. And this beer was a family affair.
Here's the story behind Family Tree from Flying Dog Brewery Brewmaster, Ben Clark:
What style is Family Tree? The final style is a Belgian Pale Ale by definition, however it has the twist of having a slight acidity to it that we feel will increase the drinkability of the beer. It will have some Lemon Verbena from Waredaca, a farm brewery, in it.
What made you excited about the concept? I think what would make all of us excited, seeing old comrades, and knowing that we came out of the concept meeting with something different from what we all do, but familiar enough to each of us that our identities won't be lost in the beer.
Is it difficult to work with such a large group? It was certainly a concern from a recipe development standpoint. It was interesting that everyone was fairly quiet at first and then we started throwing out ideas. I spoke to my past experiences with CBC beers, and the ones that were most memorable were the ones I found lighter and refreshing, as you tend to drink the CBC beer at the start or very end of your night as it will likely be one of the few beers you have in your hotel room that first night. A big heavy beer doesn't work for most people in these scenarios.
How did you represent each brewery in the final recipe? We all agreed this beer should be refreshing, and looking at our group, you have a few common themes: hops, farm breweries, Belgian beers. All this led us to a refreshing and hop forward Belgian beer, ideally utilizing some of our favorite ingredients. A few of us utilize the Hallertau Blanc hops, the yeast strain just about all of us love, some Lemon Verbena from Waredaca. A few of us identified favorite malt varieties, think of it as almost having a saison-esque malt bill, some rye, oats, wheat and so forth.
What do you look for in a special edition beer like this? Did any of that shape the direction with Family Tree? I think what shaped this beer was totally centered on two things: what are the commonalities among us that were imprinted from our experiences at Flying Dog? And secondly, what do people want to drink at an event like CBC?
Craft Brewers Conference attendees will receive one bottle of Family Tree, the 2017 symposium ale. Register now!