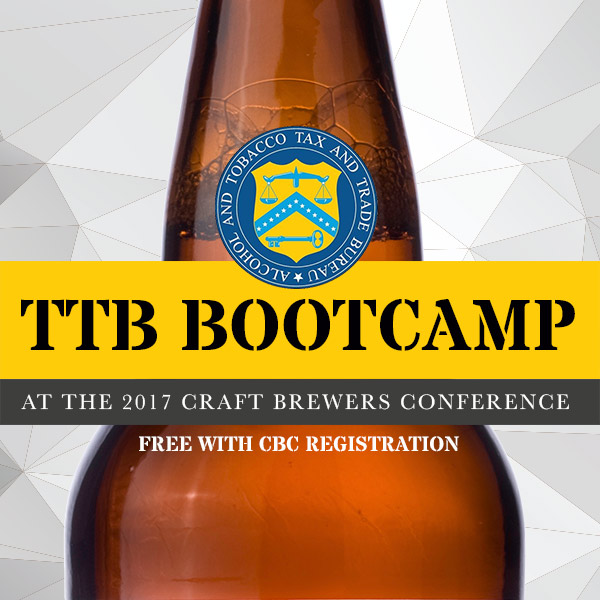 Monday, April 10, 12 p.m. to 4 p.m. Free with CBC Full Conference registration.
The Brewers Association is partnering with the U.S. Tax and Trade Bureau (TTB) to present a set of talks aimed at how brewers can most efficiently interact with the TTB.
The TTB is based a few blocks away in D.C., and this proximity gives us a great chance to tap their staff resources.
Here is a preliminary overview of some of the topics to be addressed:
Labeling
Proper Completion of Applications for Certificates of Label Approval (COLAs)
Recurring Issues in Advertising Labeling and Formulation Division (ALFD) Review of COLA Applications
Recurring Issues in TTB Alcohol Beverage Sampling Program
Formulas
Use of Formulas Online
Proper Preparation and Documentation Required for Approval of Formulas
Recurring Issues in ALFD Review of Formulas
Brewer's Notices and Federal Basic Permits
Proper preparation of Initial Brewer's Notices
Updating Brewer's Notices and Basic Permits to Reflect Changes in Ownership, Premises, and Equipment
Preparation and Filing Requirements for Brewers Reports of Operations
Excise Tax Reporting and Bond Requirements
Basic Payment and Recordkeeping Obligations
Recurring Compliance Issues
☛ Did you know?
In the first quarter of 2017, more than 50 percent of malt beverage labels were submitted with errors.
Register for the Full Conference package at CBC to gain access to TTB Bootcamp—and get the info you need to avoid headaches and delays.