Registration for the 2018 Craft Brewers Conference will open in December 2017.
Important Notes
Attendee Resources

Schedule is subject to change.
All seminars are first come, first seated.
Badge or ticket is required for all events.
Conference & trade show are not open to the public.
All attendees & exhibitors must be 21+.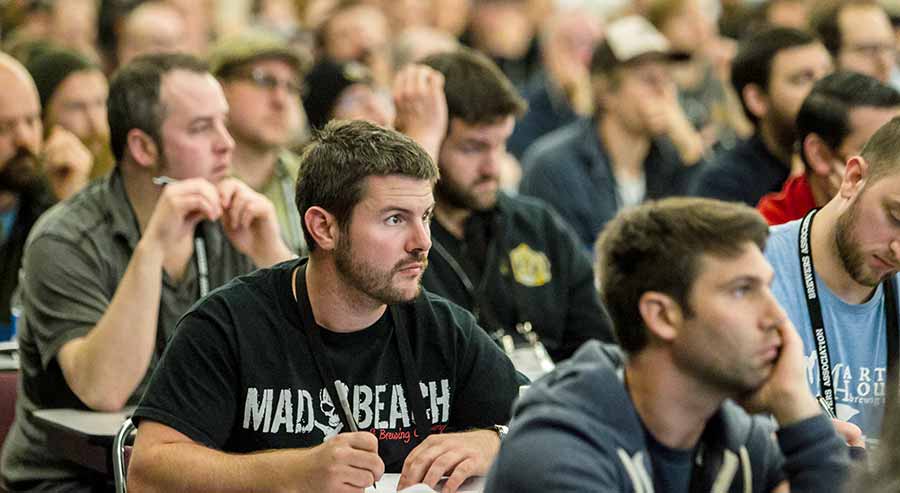 Saturday, April 28, 2018

Pre-Approved Exhibitor Move-in

Booths 1200 sq. ft. and larger ONLY

2:00 pm – 6:00 pm
Sunday, April 29, 2018

Pre-Approved Exhibitor Move-In

Booths 600 sq. ft. and larger ONLY

8:00 am – 6:00 pm

Exhibitor Move-In

3:00 pm – 6:00 pm

Attendee Check-In & Badge Pick-Up

8:00 am – 5:00 pm
Monday, April 30, 2018

Attendee Check-In & Badge Pick-Up

7:00 am – 8:00 pm

Exhibitor Move-In

7:00 am – 7:00 pm

Brewery Tours

Additional registration required.

various departure and arrival times

Safety Bootcamp

Additional registration required.

TBD

Micro Matic Draft Dispense Course

Additional registration required.

TBD

Craft Beer Wholesalers Symposium (day 1 of 2)

Additional registration required.

TBD

TTB (U.S. Tax and Trade Bureau) Bootcamp

TBD

ASBC Lab-in-a-Fishbowl, Session 1

TBD

ASBC Lab-in-a-Fishbowl, Session 2

TBD

First-time Attendee Orientation

TBD

Sponsored Hospitality

TBD

Welcome Reception

Additional registration required.

TBD

Sponsored Evening Events

TBD
Tuesday, May 1, 2018

Attendee Check-In & Badge Pick-Up

7:00 am – 5:00 pm

Light Breakfast

TBD

Craft Beer Wholesalers Symposium (day 2)

Additional registration required.

TBD

BrewExpo America® Trade Show

9:00 am – 5:00 pm

General Session I – Welcome/Keynote Address

Official Conference Opening

9:15 am – 10:30 am

Sponsored Demonstrations

TBD

BrewExpo Demonstrations

TBD

Sponsored Hospitality

TBD

Seminars

1:30 pm – 2:20 pm

Seminars

2:40 pm – 3:40 pm

Sponsored Evening Events

5:30 pm – 12:00 am
Wednesday, May 2, 2018

Attendee Check-In & Badge Pick-Up

7:00 am – 5:00 pm

Light Breakfast

TBD

General Session II – State of the Industry

9:15 am – 10:30 am

BrewExpo America® Trade Show

9:00 am – 5:00 pm

Sponsored Demonstrations

TBD

BrewExpo Demonstrations

TBD

Sponsored Hospitality

TBD

Seminars

1:30 pm – 2:20 pm

Seminars

2:40 pm – 3:40 pm
Thursday, May 3, 2018

Light Breakfast

TBD

Attendee Check-In & Badge Pick-Up

8:30 am – 4:00 pm

Sponsored Demonstrations

TBD

BrewExpo America® Trade Show

9:00 am – 3:00 pm

Brewers Association Voting Members Meeting

9:45 am – 11:00 am

BrewExpo Demonstrations

TBD

Sponsored Demonstrations

TBD

BrewExpo Demonstrations

TBD

Exhibitor Move-Out

Only booths 100 – 300 sq. ft.

3:00 pm – 11:59 pm

Seminars

11:30 am – 12:30 pm

Seminars

12:55 am – 1:55 pm

Seminars

2:20 pm – 3:20 pm
Friday, May 4, 2018

Exhibitor Move-Out

Only booths 400 – 800 sq. ft.

8:00 am – 12:00 pm

Exhibitor Move-Out

Only booths 900+ sq. ft.

12:00 pm – 6:00 pm
Saturday, May 5, 2018

Exhibitor Move-Out

By approval only.

8:00 am – 12:00 pm