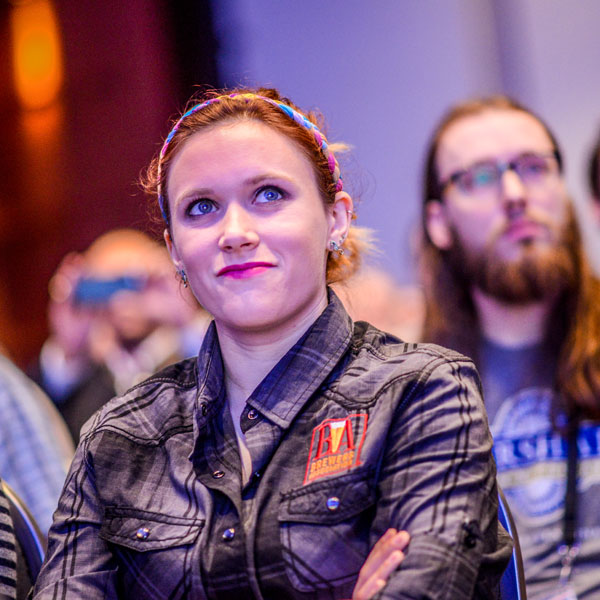 Interested in submitting a seminar proposal for 2019? Check back here in July 2018.
2018 Guidelines
The 2018 Craft Brewers Conference & BrewExpo America® (CBC) will take place April 30 – May 3 in Nashville, Tenn.
The Brewers Association is welcoming proposals for educational seminars at the conference. Seminars are expected to provide actionable take-aways for attendees to help improve their businesses. The deadline to submit a proposal is September 18, 2017.
Please review the following guidelines before submitting a proposal:
You may submit up to four seminar proposals
Seminars are one hour long. It's recommended that presentations be approximately 50-55 minutes long to allow for 5-10 minute of Q&A.
Descriptions should accurately reflect the proposed seminar content. If selected, the text provided in the "brief description" field will be used as the seminar description in the conference program.
Be prepared to provide a short bio and headshot when you submit your proposal.
You can begin filling out the form and save at any point for completion at a later date. You must submit the form in order for your proposal to be considered for review.
If your company affiliation changes after your proposal was accepted, it is subject to cancellation.
Changes (including speaker additions) after the seminar is selected will need to be approved by the CBC seminar subcommittee.
Titles and content of selected seminars are subject to change after subcommittee review.
Topics
Looking for information on what topics we'd like to see presented at the CBC? The seminar subcommittee has gathered a list of topics they are interested in seeing seminar proposals for. You may also submit on a topic of your choosing.
Automation for smaller breweries
Best practices on implementing ERP, production management software (based on barrelage)
Floor covering systems
Laboratory QA/QC systems, how to set up a lab based on brewery size
Packaging contracting
Packaging technology
Sanitation, importance and how-to
Tools to communicate lot code, traceability to wholesalers
TTB forms (Ask TTB to participate?)
Brewers as stars for the brewpub, training to be representatives of brand
Driving add-on, to-go beer sales
Events at brewpubs to drive traffic during slow nights
Hands-on beer and food pairing, beer dinner, and beer and food pairing on the menu
How to increase per person average, sales tactics, spend at the table
Menu design
Retail/merchandise planning
Staff buy-in/loyalty to the brand
Staff training
When people come for your food, how do you get them to love your beer?
Adapting your business plan for the changing market
Balancing new brands with existing brands
Best practices for accounting programs
Data driven industry analysis, where is the market going
Human resources
Lean manufacturing
Marketing 101
Retailer and brewer relationships
Staying current with social media
Staying relevant for older breweries
What disruptions will affect business practices, how to evolve for the future
Best management practices for barrel-aging
Cans 101
Draught maintenance: Keeping your system running smooth
Glass flaw training seminar
Good manufacturing practices
Guidelines to reduce DO and TPO
Introduction to quality management for small brewers
Lab on a budget
Mobile packaging best practices
Quality draught system design and installation
Raw materials specifications guidance (used within a brewery)
Recalls
Setting up a sensory program
Yeast Management Practices 101
Brewery air quality
Brewpub/kitchen safety
Confined spaces
Electrical safety in breweries
Ergonomic threats and solutions to avoid Workman's Comp claims
Grain handling best practices
Lock out, tag out
Return on investment by implementing a safety program
Safety guidelines for handling compressed gas
Safety record keeping
Solutions to ergonomics threats in the brewery
Starting a hazard analysis program
Understanding OSHA
Developing a marketing plan
How do you build your brand in a new market
How do you provide sales rep support for large territories with lower sales?
How to create a fact based sales presentations: Make your case with numbers
Is it better to focus on a flagship or portfolio approach?
Managing distributor/brewer expectations
Managing on-premise accounts in an era of rotating tap handles
Planning for packaging: Determining what makes sense for your brewery
Building a business plan with flexibility in mind
Evaluating different business models
How distributors evaluate new breweries to determine whether to partner
How to execute a successful brewery opening/launch
How to raise capital
Marketing strategies for planning breweries
Right-sizing your system
Starting a quality lab/program
Things you may not be thinking about when starting your brewery, checklist of top unplanned issues
Water considerations in your municipality
CIP optimization and manual cleaning best practices
CO2 optimization and small scale CO2 capture technologies
Promoting inclusiveness and diversity
Social responsibility of breweries
Sustainability 101: For breweries under 2,000 bbls
Sustainability in brewpubs and taprooms
Sustainable design and build strategies
Utility management and best practices
Water capture and reuse, even wastewater
Art and science of blending beers
Beer loss reduction and extract recovery
Best practices for nitrogenizing beer
Brewing enzymes
Brewing myths: How to educate consumers
Care and feeding of mixed culture beers
Cellaring/filtering/conditioning best practices
Gluten free, gluten reduced beer
Haze stability in NE IPAs, unfiltered beers
Hop contract strategies
Hop varieties
Liquid chilling/cooling systems, refrigeration 101
Understanding malt and milling to optimize your bottom line
Wood beers: Best practices from brewers
Yeast handling systems for smaller brewers, scalable systems
The call for proposals is now closed.
For questions, please contact MacKenzie Staples.