Registration for the 2018 Craft Brewers Conference will open in December 2017. Below you can explore this year's brewery tour information to get a better idea of the typical details.
Official CBC Brewery Tours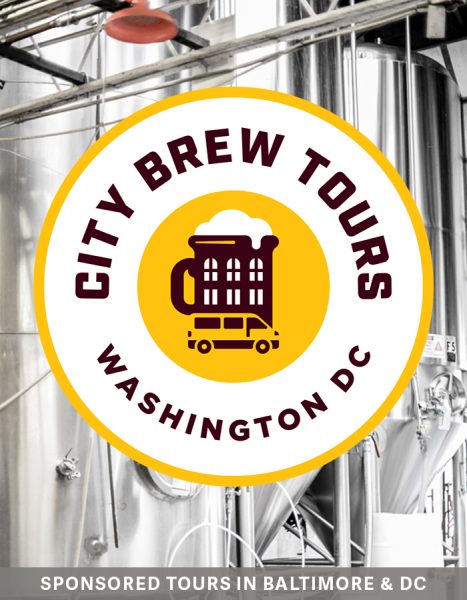 Each year at Craft Brewers Conference, the Brewers Association showcases brewery members in the area in a fun side event that helps conference attendees see the area, all while sampling some fantastic craft beer. If you plan to go on a brewery tour, be aware that tours generally start by 8:00 am and finish around 5:00 pm. (This means if you're signing up for the Wholesaler Symposium or Micro Matic course, you won't be able to attend a brewery tour, or vice versa)
Brewery tours are only available to registered attendees of Craft Brewers Conference and require an additional payment. Lunch and beer samples are included in all tours. Attendees must be 21+ to participate.
Brewery tours are expected to sell out quickly. Visit the Registration Details & Fees page for information on registering for the conference and brewery tours.
Book a Private Brew Tour in DC or Baltimore! (Sponsored by DC Brew Tours)
Make the most of your visit to the capitol region by letting City Brew Tours craft a customized, industry-focused brew tour for your brewer's guild or fellow brewers. We can even create a Sip and Sights-style brew tour that combines the history and famous sights of DC (i.e. Lincoln Memorial, Washington Monument, etc.) or Baltimore, MD, with your love of craft beer.
SOLD OUT –

Brewery Tour 1- Washington, D.C.

3 Stars Brewing Company

Hellbender Brewing Company

Right Proper Brewing Company

Atlas Brew Works

DC Brau
SOLD OUT –

Brewery Tour 2- Baltimore, MD

Heavy Seas Beer

Union Craft Brewing

Peabody Heights Brewery

Key Brewing Company
SOLD OUT –

Brewery Tour 3- Frederick, MD

Flying Dog Brewery

Barley and Hops Grill & Microbrewery

Milkhouse Brewery

Red Shedman Farm Brewery
SOLD OUT –

Brewery Tour 4- Montgomery County, MD

Waredaca Brewing Company

Brookeville Beer Farm

Growlers of Gaithersburg (Lunch)

7 Locks Brewing

Denizens Brewing Co.
SOLD OUT –

Brewery Tour 5- Howard County, MD

Calvert Brewing Company

Manor Hill Brewing

Jailbreak Brewing Company

Franklins Brewery
Brewery Tour 6- Frederick, MD #2
Brewers Alley
Monocacy Brewing Company
Rockwell Brewery
Mad Science Brewing Company
SOLD OUT –

Brewery Tour 7- Loudoun County, VA

Dirt Farm Brewing

Vanish Farmwoods Brewery (Lunch)

Old Ox Brewery

Ocelot Brewing Company
SOLD OUT –

Brewery Tour 8- Fairfax County, VA

Port City Brewing Company

Mad Fox Brewing Company (Lunch)

Lake Anne Brew House

Caboose Brewing Company
SOLD OUT –

Brewery Tour 9- Prince William County & Lorton, VA

Heroic Aleworks

Brew Republic Bierwerks

Ornery Beer Company (Lunch)

Water's End Brewery

Fair Winds Brewing Company
SOLD OUT –

Brewery Tour 10- Loudoun & Fairfax Counties, VA

Lost Rhino Brewing Company

Beltway Brewing Company

Crooked Run Brewing (Lunch)

Mustang Sally Brewing Company

Aslin Brewing Company
SOLD OUT –

Brewery Tour 11- Arlington & Manassas, VA

BadWolf Brewing Company

Heritage Brewing Co.

Tin Cannon Brewing Company

Capital City Brewing Company

Throughout the week of April 3rd, City Brew Tours DC will be offering special "What's Brewing In DC & Baltimore" Tours for conference attendees and guests.

Spend the afternoon or evening with fellow brewers as we visit some of Washington DC and Baltimore's most iconic breweries. Every "What's Brewing In DC & Baltimore" tour will include round-trip transportation, visits to four different breweries, a meet and greet with a brewer at each stop and either lunch or dinner! Brewery tours are happening throughout the week and will likely sell out. For tickets, itineraries and more information, please visit https://dcbrewtours.com/cbctours/
*schedule subject to change