2015 Sponsorship Opportunities
Each year, professionals throughout the craft brewing industry attend the Craft Brewers Conference to network, find suppliers, and seek advice that they rely on for success in a growing industry.
Sponsoring or advertising at the Craft Brewers Conference & BrewExpo America will provide your company an increased level of exposure in front of 10,000 devoted brewers, brewery managers and restaurant personnel, who will see your company both during the conference and afterwards when they're onsite at the event, and when they refer to the program and seminar recordings.
The following is an overview of the 2015 sponsorship options. Please note that opportunities and pricing for 2015 are subject to change. For more detailed information about sponsorship opportunities, please contact us (information at the bottom of the page) for full description.
Welcome Reception | $20,000 |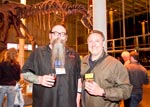 Be the exclusive sponsor of the most anticipated evening of the conference. All attendees converge to mingle with colleagues they haven't seen in ages, and meet new friends, sample great local beer and kick off the conference.
Seminar Audio Recordings | $15,000 |
Your company will be remembered before during and after the conference for providing the seminar recordings free of cost to all attendee. This is a new and unique opportunity to get your company front and center at the nation's largest gathering of craft brewing professionals and provide them a resource to be used well after the conference.
Attendee Bags | $17,500 | SOLD OUT
Sponsor the attendee bag and be seen by everyone at the event! If you want to put your company's brand in front of this professional audience, this is one of the easiest ways to do it–and be seen throughout the conference and afterwards when attendees use the commemorative bag for personal use.
Mobile Application | $12,500 | SOLD OUT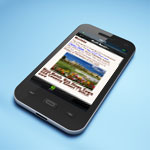 Bring attendees the official Craft Brewers Conference mobile application where they can easily find event happenings, locations, times and more. The mobile application gets used by many, who will see your company as providing a great service.
Internet/Email Access Station | $13,500 |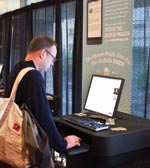 Brand your company with the conference's only Internet access area. Attendees always converge around these free stations to touch base with the home office, and they'll remember that you made the communication seamless.
Jump Drive Sponsor | $11,000 |
Place your company on a jump drive handed out to every attendee at the Craft Brewers Conference. This green initiative eliminates paper waste, and offers visibility during and after the conference. The jump drive launches a "hidden" section of the website that contains two pages; one that features electronic "inserts" of sponsoring companies and one that features audio and visual Speaker Presentations. These are extremely heavily trafficked web pages.
Registration Area | $10,000 | SOLD OUT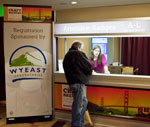 Every brewer, attendee and exhibitor will see your brand front and center when they check in to the conference. Placed in a prominent location, everyone will walk by and see your support of the show.
Conference Hotel Room Key Card | $8,500 | SOLD OUT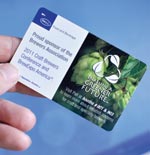 Place your brand in front of every attendee at the host hotel by branding the hotel key cards with your company and key messages. An invaluable opportunity.
Twitter Wall & Lounge | $7,500 |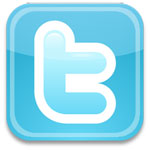 Bring attendees real-time tweets from this very active community of brewing professionals. A great way to help the attendees inside and outside of the conference stay connected.
Brewery Tour Transportation | $6,500 |
Attendees who embark on these tours will certainly appreciate and remember your company for sponsoring a fun and exciting journey to local area breweries.
Continental Breakfast & Keynote (Wed) | $10,000 |
Associate your company with the renowned CBC. Help start each conference attendees' day right by providing them with a complete continental breakfast every morning. Increase impact by having each breakfast associated with your brand.
Continental Breakfast (Thu) | $5,500 |
Associate your company with the renowned CBC. Help start each conference attendees' day right by providing them with a complete continental breakfast every morning. Increase impact by having each breakfast associated with your brand.
Staircase Visibility | $5,500 |
Watch your visibility climb while a captive audience ascends your billboard-size ad on the vertical space of the stair risers between the floors where the conference sessions are held.
Green Sponsor | $5,500 + cost of wrap for bins |
Help the Brewers Association provide a more sustainable event. Be recognized as the exclusive green conference sponsor offering these necessary services to attendees. They'll reward you with future business!
Airport Shuttle Service | $5,000 + cost of service |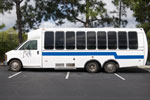 Take the worry out of transportation costs and logistics by offering attendees a free shuttle service at peak times of arrival and departure from the event. Attendees will no doubt appreciate the gesture.
Massage Relaxation Station | $4,500 + cost of vendor |
Generate booth traffic and create a buzz on the show floor! Professional chair massages are provided in a quiet area of the conference where attendees can enjoy a chair massage at no charge by presenting a coupon from you, the sponsor. Coupons can be distributed from your booth or in conference attendee bags.
Sponsored Demonstration | Private $4,500 | Open $3,250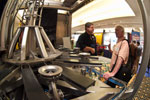 Private:
Host a presentation of your product or service, and we'll help you market it to attendees through advertising, the print program, the web and the pocket program. Two private rooms in the BrewExpo will feature four presentations per day.
Open:
Open areas in the BrewExpo where companies can showcase their product or service to attendees. We'll help you market the event through the print program, the web and the pocket program. Six 45-minute presentations are available per day in two areas.
Beer Station | $4,500 | SOLD OUT
Your brand is guaranteed to get noticed when you are one of only ten sponsors serving beer at the BrewExpo America tradeshow. This sponsorship includes a beer station space on the tradeshow floor and the marketing of the beer station in all available conference materials.
Seminar Room Sponsorship | $4,500 each |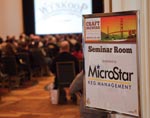 Attendees will continue to associate your company with their conference learning during and after the event, thanks to prominent logo placement and opportunities for your company to offer marketing materials to attendees.
Eco-Friendly Water Bottles | $3,750 + supplied water bottles |
Be remembered as a sustainable maven by providing stainless steel water bottles to all conference attendees. Water bottles can be filled at stations on the show floor and surrounding the conference.
Commemorative Glass | $3,750 + glassware | SOLD OUT
Be remembered by providing the commemorative Craft Brewers Conference glass to all conference attendees.
Hospitality Suite Sponsorship | $3,750 per day |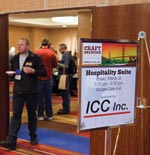 As a Hospitality Suite Sponsor, your brand will be front and center when attendees are relaxing and socializing. This sponsorship includes visibility in the hospitality space and all available conference materials. Hospitality Suites are available each afternoon.
Off-site Nightly Event Sponsor | $3,750 (2 per evening) |
Be the host of one of two officially sponsored nightly events and be featured in front of the beer and brewing industry. Your company can plan and produce the event, and we will work with you and your team to promote and market it to our attendees. Be highlighted as
the
place to be for networking.
Supporting Marketing Package | $3,500 |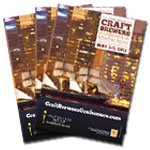 Give your company prominent placement by participating as a sponsor and help your business stand out from the other exhibitors. You'll be recognized as a valuable supporter of the conference through logo placement and advertising opportunities.
Commemorative Attendee Gift | $2,750 + gift or sample |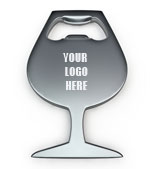 Present attendees with a gift or product placed in their event bag, commemorating their CBC experience. Affiliate your company with the BA, the recognized leader in bringing the craft brewing industry together.
Charging Station | $2,750 per station + supply of stations |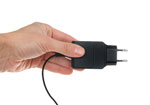 Brand stations with your company logo for attendees to charge their computers, phones, etc. Have your company recognized as providing convenience and a valuable service during the event.
Check-in Gift or Room Drop | $3,000 + gift or sample |
Be the first to welcome attendees to the Craft Brewers Conference by providing a gift at registration or having a branded basket placed in their room one evening. Your generosity will be appreciated.
Do you have a creative idea that you don't see listed here? Please contact us and we will work with you to bring it to life, offering great exposure at the Craft Brewers Conference.
Contact Us
Business Development Manager for Advertising & Sponsorship (West)
Kari Harrington
Phone: 303.447.0816 x167
Email: kari@brewersassociation.org
Want to check out other advertising and sponsorship opportunities through the Brewers Association? Download the full Visibility Kit.